BRIEF HISTORY
Advocates for Basic Legal Equality (ABLE) is a nonprofit law firm established in 1969 to ensure that the most vulnerable people in our communities have the same access to justice as people and companies that can afford to retain an attorney. ABLE and its partner law firm, Legal Aid of Western Ohio (LAWO), are the only law firms available for comprehensive legal representation in non-criminal matters for more than 385,000 people living, working, and raising their families in poverty in Northwest and West Central Ohio. ABLE advocates for – and with – financially disadvantaged individuals and communities to effectuate just and equitable policy changes that address the structural causes of poverty and to protect their right to fairness and justice in the legal system.
OUR IMPACT IN COMMUNITIES
ABLE is providing legal services to people living in poverty in your community. While our services are legal, they affect every area of a community's economic and social well-being:
Create economic and housing stability by working with communities to protect and develop safe and stable housing and by helping families defend against unfair evictions and unscrupulous lending schemes
Keep Ohioans working by helping people remove barriers to employment caused by earlier involvement with the criminal justice system
Increase public safety by helping individuals and families protect against domestic abuse and trafficking
Build communities by assisting them in creating community legal models that ensure access to helathy food and housing
Promote better health outcomes for patients with low incomes by joining with health care providers and their patients to address social determinants of health
Protect the legal rights of refugee and immigrant members of our communities
Ensure that agricultural workers' living and working conditions are safe
Keep children in school by reducing disparate disciplinary policies and practices and protect their right to receive special education services so they have a chance for long-term success
Combat fraud and protect consumers
"If it wasn't for legal aid I don't know what I would have done. At the end of the day, I'm not going to be homeless. Legal aid saved me a lot."

Tracie
"I want every black mother at her kitchen table to be able to look at her young daughter or young son and say, 'It is possible for you someday to make it on to the U.S. Supreme Court.'"

Wil Haygood
"For many families and individuals, legal issues are a barrier to family stability, health, housing and other critical needs. Legal aid provides a means to address these problems, often with life-changing effects."

Robert M. Curry | Thompson Hine LLP | President of the ABLE and LAWO Boards
By the numbers
In 2021, ABLE and LAWO received 11,657 requests for legal assistance and closed 4,450 cases.
These cases helped protect and stabilize more than 17,000 low-income people.
Over $9 million in monetary awards for clients supported Medicaid coverage, housing assistance, bankruptcy discharges, and other case outcomes allowed people to stabilize their financial circumstances and spend money in their local communities for food, transportation, and other necessities.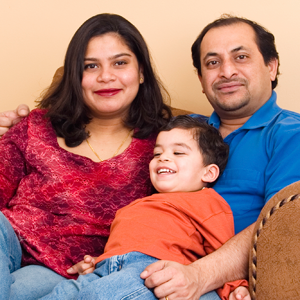 Who is eligible for legal aid services provided by ABLE?
Individuals or groups of individuals living in 32 counties of western and west-central Ohio who meet income requirements based on federal poverty guidelines and other special factors will generally be eligible. Our agricultural worker and immigrant programs serve all 88 Ohio counties. Under our current funding, we can serve only a fraction of those who apply. We provide legal education and pro se materials whenever possible to those who do not receive direct legal representation.
How can a person apply for help? Go to Legalaidline.org
Contact the Legal Aid Line by phone:
New inquiries from Lucas County can call (419) 724-0460.
Outside of Lucas County call toll-free at (888) 534-1432.
(residents of Allen,+ Ashland, Auglaize, Champaign, Clark, Crawford, Darke, Defiance, Erie, Fulton, Greene, Hancock, Hardin, Henry, Huron, Logan, Mercer, Miami, Montgomery, Ottawa, Paulding, Preble, Putnam, Richland, Sandusky, Seneca, Shelby, Van Wert, Williams, Wood, and Wyandot Counties)
Eligible individuals will receive free legal assistance or a referral.

ABLE believes eligible persons should have equal access to ABLE's legal services and believes in delivering legal services to eligible persons equally. ABLE does not treat eligible persons differently on the basis of ethnicity, race, religion, color, creed, sex, age marital status, national origin, ancestry, sexual orientation, disability, citizenship, military status, veteran status, gender identity, gender expression, genetic information, HIV or AIDS status, political affiliation or beliefs, union activity, prior civil rights activity, or any other basis prohibited by law.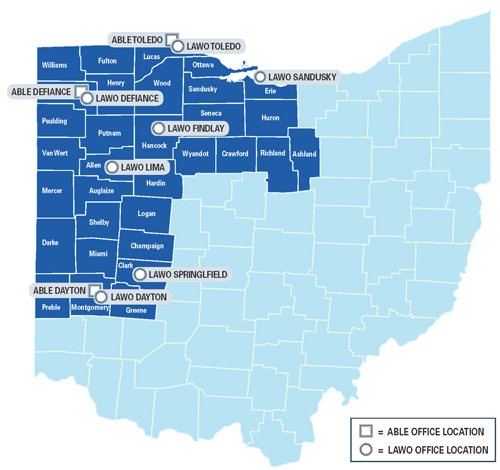 Website and Social Media Messaging
ABLE is a non-profit regional law firm that provides high quality legal assistance in civil matters to help eligible low-income people & groups in western Ohio achieve self-reliance, equal justice, and economic opportunity.

All content on our website and social media spaces, or in links provided, is for general information and educational purposes only, and does not constitute as legal advice or the practice of law. Viewing this site or our social media channels does not form an attorney/client relationship between you and ABLE. All visitors should consult with a qualified legal professional regarding their individual questions, needs, or issues that may be of concern. We are not responsible for any action taken by a visitor based upon any information found on our website and social channels. If you are in need of legal help, contact the Legal Aid Line at (888) 534-1432.