Toledo Area Fundraising Initiatives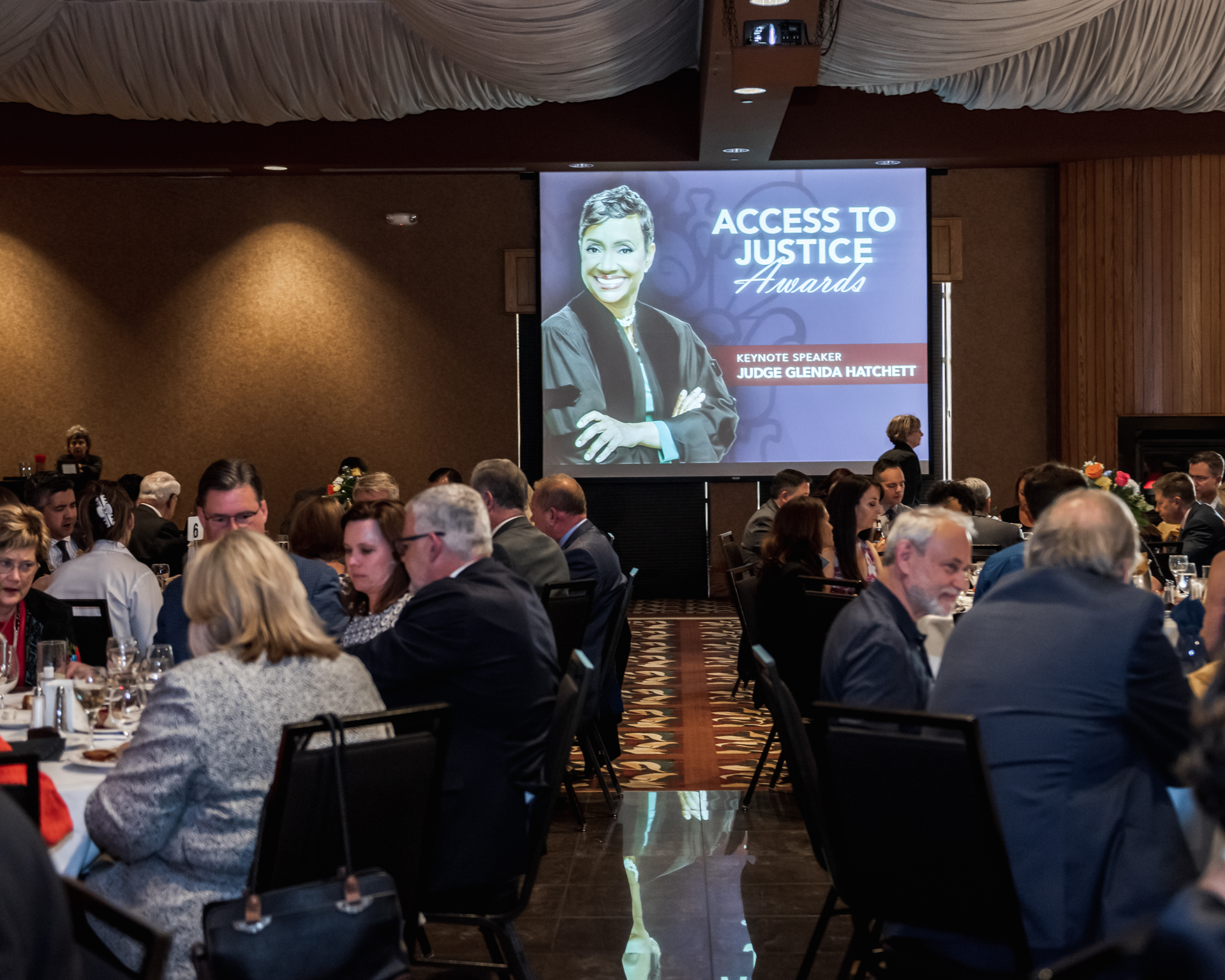 2023 Access to Justice Awards Dinner

The 2023 Access to Justice Awards Dinner is scheduled for Thursday, May 25, 2023. Proceeds from ticket sales and sponsors will support the critical legal aid programs and services provided by Advocates for Basic Legal Equality, Inc. (ABLE), Legal Aid of Western Ohio, Inc. (LAWO), and the Toledo Bar Association's (TBA) Pro Bono Legal Services Program.

This year's featured keynote speaker is Mónica Ramírez, an attorney, author, and activist fighting for the rights of farmworkers, migrant women workers, and the Latin(x) community. She is the founder of Justice for Migrant Women and co-founder of Alianza Nacional de Campesinas, The Latinx House, and Poderistas.

Every year, the Access to Justice Awards Dinner honors extraordinary service in the public interest by individuals and organizations in northwest Ohio. We are currently accepting nominations for the 2023 Public Interest Law Award and the Community Advocacy Award.

Submit your Access to Justice Award nominees by Friday, April 14, 2023.
2022 Justice for All Campaign
Thanks to our donors, we raised almost $200,000 for the 2022 Justice for All Campaign!

America holds close the ideal of equal justice for all, but all too often, justice is out of reach for many of its most vulnerable citizens. Civil legal aid steps in to ensure that this promise is made a reality for the thousands of individuals and families who need representation in the justice system, but could not otherwise afford an attorney. By giving to the Justice for All Campaign, you can make justice a reality for individuals and families in northwest Ohio.
The Justice for All Campaign is a fundraising partnership among
Advocates for Basic Legal Equality, Inc. (ABLE)
Legal Aid of Western Ohio, Inc. (LAWO) and
The Toledo Bar Association (TBA) Pro Bono Legal Services Program.
As the sole providers of free civil legal aid to low-income residents of northwest Ohio, the Justice for All Campaign unites our fundraising efforts to ensure that vulnerable and disenfranchised members of our community have equal access to the legal system.
Each year, thousands of people in our community request legal help from LAWO, TBA Pro Bono, and ABLE. Through gifts from our friends and supporters in the Toledo legal community, we are able to provide life-changing assistance to victims of elder abuse, veterans, survivors of domestic violence, and many families living, working, and raising their children in poverty who struggle to meet their day-to-day needs of housing, food, healthcare, or education for their children. But even though we served so many, there are still more who need our help, and we ask that you support us again this year.
Members of Our Community Need Your Help
Your investment in the Justice for All Campaign gives hope to our clients and creates stability in the community as their legal problems are resolved. Options for supporting the work of ABLE, the TBA Pro Bono Legal Services Program, and LAWO are as varied as the programs and services we offer. Whatever your interest—helping children, preventing homelessness, providing safety, rebuilding neighborhoods, protecting civil rights, providing for veterans—there is opportunity within this campaign.
When you support the Justice for All Campaign, you contribute to equal justice under the law – something we all care about.
2022 Justice for All Campaign
Campaign Co-Chairs
Robert (Rob) S. Salem, Co-Chair
University of Toledo, College of Law
Steven P. Collier, Co-Chair
Collier Mediation, LLC

Cabinet Committee Members
Cheri Budzynski, Shumaker Loop and Kendrick, LLP
Emily Desmond, ABLE
Janet Hales, ABLE
Maggie M. Humphrey, TBA
Bradley J. Lagusch, TBA
Kevin Mulder, LAWO
Gina Scherzer, TBA
Karl E. Strauss, Owens Corning
Nathan Turner, Board Member, ABLE & LAWO
Carmen Vega-Perez, ABLE
Laura A. Wilson, Schaffer & Associates, LPA
Campaign Ambassadors
Cheryl Mendenhall, Allotta & Farley Co., LPA
Charles E. Boyk, Charles E. Boyk Law Offices, LLC
Margaret G. Beck, Brady, Coyle & Schmidt, Ltd.
James E. Yavorcik, Cubbon & Associates Co., LPA
Adam S. Nightingale, Eastman & Smith, Ltd.
Christopher F.  Parker, Goranson, Parker & Bella Co., LPA
Bruce S. Schoenberger, 
Gressley, Kaplan & Parker
John S. Wasung, Kitch Drutchas Wagner Valitutti & Sherbrook
Jay E. Feldstein, Liebenthal Levine, Ltd.
Peter A. Dewhirst, Lyden, Chappell & Dewhirst, Ltd.
Richard S. MacMillan, MacMillan, Sobanski & Todd, LLC
Richard R. Malone, Malone, Ault & Farell
Meghan Anderson Roth, Marshall & Melhorn, LLC
Kara M. Maruszak, Owens Corning
Jon Sheehan, ProMedica
Rebecca Nowak, ProMedica
J. Randall Engwert, Reminger Co., LPA
Matthew J. Rohrbacher, Rohrbacher Cron Manahan Trimble & Zimmerman Co., LPA
Laura A. Wilson, Schaffer & Associates, LPA
Howard B. Hershman, Shindler Neff, LLP
Emily M. Morrison, Shumaker, Loop & Kendrick, LLP
Marilyn L. Widman, Widman & Franklin, LLC
Michelle L. Kranz, Zoll & Kranz
The 2023 Justice for All Campaign will kick off this summer!
Info on Your Charitable Donation
ABLE is a charitable organization under section 501(c)(3) of the Internal Revenue Code. Contributions are tax-deductible to the fullest extent of the law.
The ABLE Tax ID# is 23-7376131.